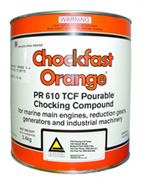 Pourable Chocking Compounds for the Marine Industry
CHOCKFAST ORANGE is a specially formulated 100% solids, two component inert filled casting compound
developed for use as a chocking or grouting material. CHOCKFAST is designed to withstand severe marine and industrial environments involving a high degree of both physical and thermal shock. The compound is non-shrinking and has very high impact and compressive strength.
CHOCKFAST ORANGE has proven to be a far superior yet less expensive method of establishing and permanently retaining precise equipment alignment under extreme conditions.
Approved by Regulatory Societies Worldwide
Greatly reduced time and cost of chocking
Eliminates machining and hand fitting of metal chocks
Proven superior to fitted steel chocks in durability and alignment retention
Eliminates loosening of hold down bolts
Vibration and noise attenuation
We also offer Chockfast Orange Application Services. Click HERE for more information.